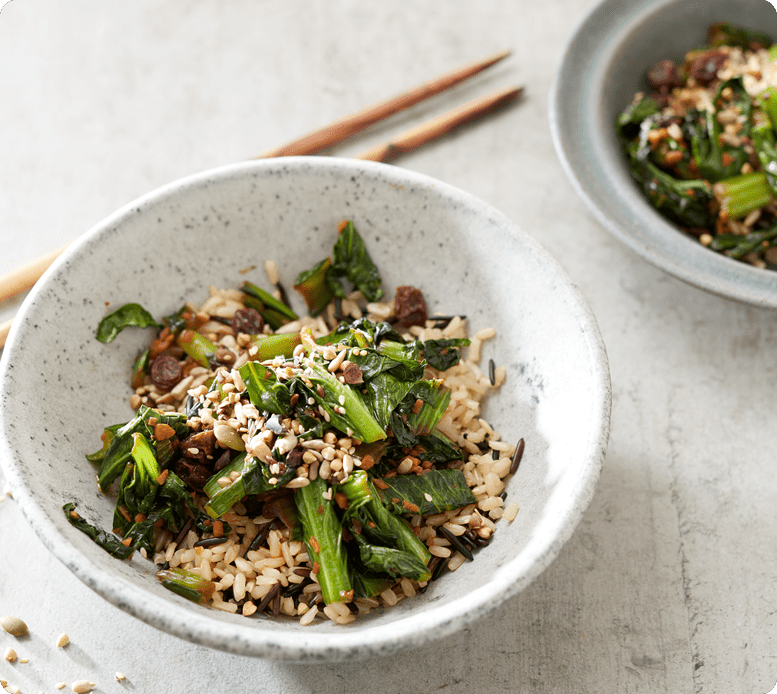 Choy Sum stir fry with Brown and wild rice
2 serves
1/3 cup Kapai Puku Cacao seed mix
¾ cup long grain brown rice
¼ cup wild rice
1 ¼ cups water
½ tsp sea salt flakes
½ tbls olive oil
4 large cloves garlic, chopped finely
1tbls fresh ginger, finely chopped
approx. ¼ tsp dried chilli flakes
2 bunches choy sum, approx 450g, chopped stalks and chopped leaves
8 drops sesame oil
3 tsp tamari
Place Kapai Puku Cacao seed mix in a frying pan over low heat. Stir frequently. Remove from heat when the seeds start to pop. Set aside.
In a medium saucepan, bring the brown and wild rice, water and salt to the boil. Cover, and reduce to a slow simmer. Cook for 30 minutes . Turn off the heat and let the cooked rice sit for 10 minutes with the lid still on as the remaining steam will further cook the rice.
Heat the oil in a frying pan or wok over medium to high heat.
Add the garlic, ginger and chilli and cook for 1 minute.
Add the chopped stalks of the choy sum and cook for 2 minutes. Add 1 tbls water and the remaining choy sum and cook for 2 minutes or until leaves just start to wilt. Remove from the heat and add a pinch of salt, tamari and sesame oil.
Divide the rice between 2 bowls add the greens and top with Kapai Puku .
Healthy RECIPES FROM THE BEST CHEFS IN AUSTRALIA.
So many ways to enjoy your KAPAI PUKU at anytime.