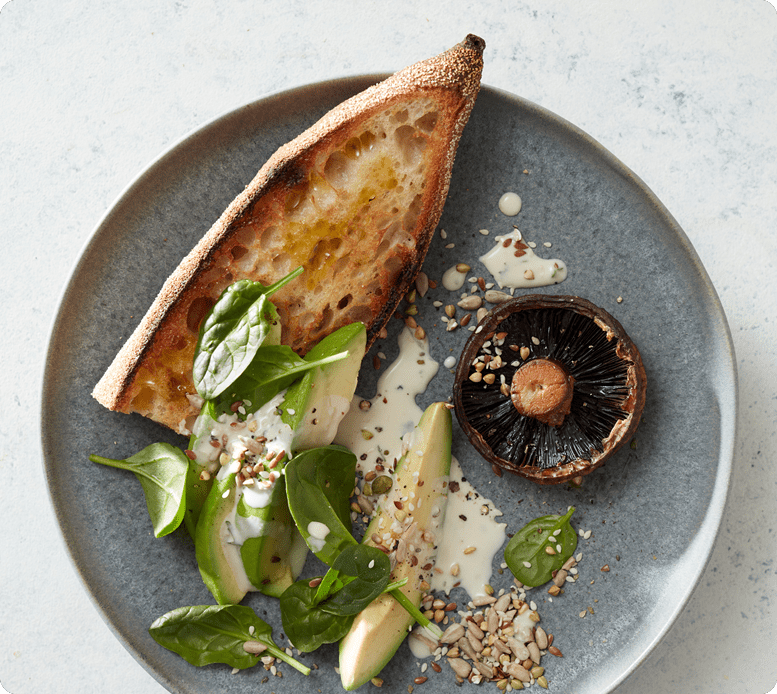 Avocado and tahini dressing on toasted sour dough bread
Serves 4
2 tbls Tahini, hulled
1 tbls Lemon juice
2 tbls water
1 tsp extra virgin olive oil
1 small bruised garlic
1 tsp flat leaf parsley, chopped
Salt flakes and freshly ground pepper
1/2 tbls extra virgin olive oil
4 medium sized mushrooms, stalks trimmed
1 Avocado, sliced
2 handful Spinach leaves
Kapai Puku Raw Seed Mix
Sour dough bread, toasted
Tahini Dressing- Place tahini and lemon juice in a small bowl and mix until combine. Add water and stir to combine. Add the olive oil, bruised garlic, parsley and season with salt and pepper. Stir to combine.
Heat oil in a frying pan over medium heat and add the mushrooms. Season with salt, and cook, until mushrooms are soft.
Arrange avocado, spinach leaves and mushrooms between 4 plates. Drizzle with tahini dressing and top with Kapai Puku Raw Seed Mix.
Healthy RECIPES FROM THE BEST CHEFS IN AUSTRALIA.
So many ways to enjoy your KAPAI PUKU at anytime.