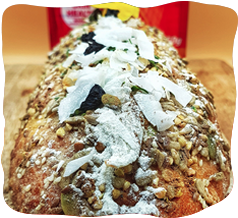 Moist Pineapple Banana Bread with Kapai Puku No. 1 Liver Health
Makes one loaf
INGREDIENTS:
1/2 cup butter, softened
1 cup sugar
2 eggs
1/4 cup Kapai Puku No. 1 Liver Health
1/2 cup mashed ripe banana
1/3 cup drained crushed pineapple (we used fresh pineapple)
1/2 cup flaked coconut
2 cups gluten-free plain flour OR sorghum/buckwheat/superfine brown rice flour
1 teaspoon baking powder
1/2 teaspoon baking soda
1/2 teaspoon Himalayan sea salt
METHOD:
In a bowl, cream butter and sugar. Beat in eggs. Stir in banana, pineapple and coconut. Combine dry ingredients; stir into creamed mixture just until combined. Spoon into a greased 20cm x 10cm loaf pan.
Bake at 180-c degrees for 65-70 minutes or until bread test done.
Cool in pan 10 minutes; remove to a wire rack.
Recipe adapted from JamHands
Healthy RECIPES FROM THE BEST CHEFS IN AUSTRALIA.
So many ways to enjoy your KAPAI PUKU at anytime.