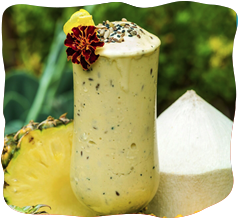 Kapai Puku Banana Blueberry Smoothie
INGREDIENTS:
1 banana (Can be fresh or frozen. If freezing bananas, peel first, wrap in cling wrap and place in freezer)
½ cup blueberries (fresh or frozen)
2 to 3 tablespoons KAPAI PUKU® of your choice (we love Antioxidant Health in this)
1 heaped scoop (30g) of protein powder (we use Pea/Rice Protein)
1 cups of filtered water
Optional:
1 teaspoon honey
Replace blueberries with strawberries, raspberries or mixed fruit of your choice.
METHOD:
Place all ingredients into blender.   Blend until all ingredients have been mixed in. Add more or less powder for a thicker or thinner consistency.
Healthy RECIPES FROM THE BEST CHEFS IN AUSTRALIA.
So many ways to enjoy your KAPAI PUKU at anytime.